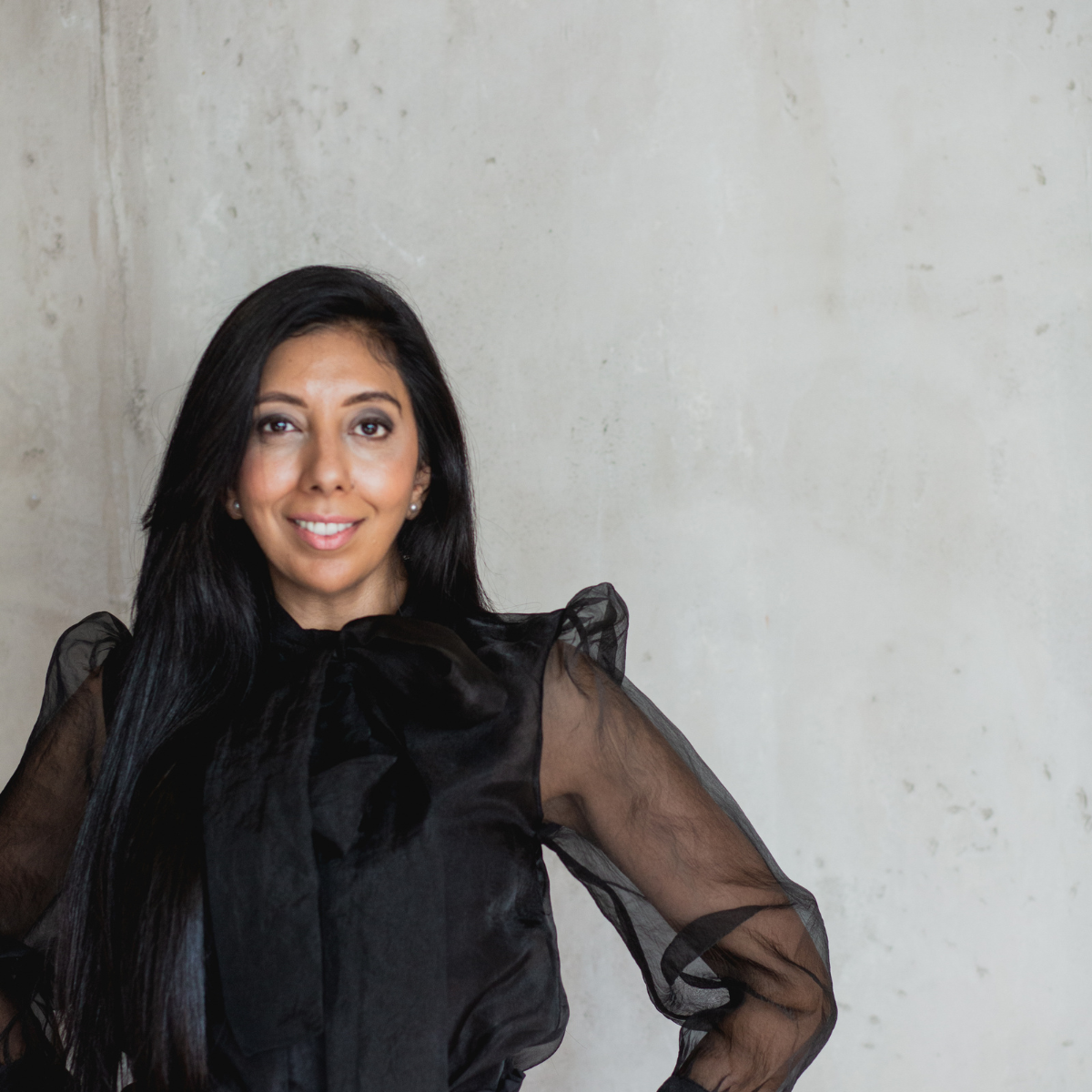 I sincerely hope this newsletter is a nice surprise in your inbox this afternoon, I have been pretty silent in your inbox apart from regular job alerts, this is because we have been extremely busy behind the scenes serving our clients and candidates. We have had a very successful QTR 1; 61 placements, a significant increase in social interactions, which is needed in this current recruitment market, 10+ 5-star reviews, and so much more has been enough to keep me and the team busy.
But most importantly we have spent the last few months deep in research and innovation mode, finding new and creative ways to find the right candidates for our clients. This has meant a lot of late nights for our team, what is it that they say about insanity? Doing the same thing and expecting different results is the definition of just that.
So, what is it that we need to catch up on? (This newsletter will be slightly longer but I encourage you to keep reading!)
After 17 months, we finally received a Budget!
This was a substantial Budget focused on economic growth and measures to boost business investment. At the centre of the Budget was a focus on labour shortages and tackling economic inactivity, which included support on childcare, measures to get over 50s into employment and a commitment to review the Shortages Occupation List (SOL) more regularly. However, there was very little on skill development which is the real issue.
All in all, in my opinion, the focus of the Budget was correct, particularly the renewed emphasis on the Industrial Strategy. However, we still need some proper strategies for workforce planning. Moves on full expensing for investment, childcare, immigration and investment zones is a good start but in other areas, such as skill development, the strategy is headed in the wrong direction.
The childcare changes will be helpful for the jobs market and pay for themselves over time as parents stay in higher-paying jobs. But we also need to ensure the provision is in place for parents to get what they have been promised. The implementation of the childcare changes won't come quickly enough to help businesses and industries overcome entrenched labour shortages in the current economic slowdown. "This is concerning when labour and skills shortages could cost the UK economy up to £39 billion per year from 2024" (REC).
Some of the policies will only boost growth if we have the right people, with the right skills to do the jobs in the first place. It's a good start, but more work is needed particularly on issues like enforcement, skills, and economic inactivity.
March statistics
The main thread running throughout last year hasn't changed, March data shows stability in employer demand for staff. The labour market is not surging, as it did for much of 2022, but it remains a good time to be looking for a job. Firms still need to hire and there are plenty of opportunities out there.
There is nothing in this data that suggests that labour and skills shortages are going away soon, so companies need to adapt their hiring plans to match that. With a focus on reaching into different communities, skill development and staff engagement are likely to pay off. Across the country, the best firms are working with their recruiters on this.
There is much the Government can do too. The Budget started to focus in the right areas on childcare and support to work, but there is a lot to do if these plans are to make a difference. However, it is disappointing that the budget did not address this skill shortage – the current system in England actively discourages employer investment and it needs to change.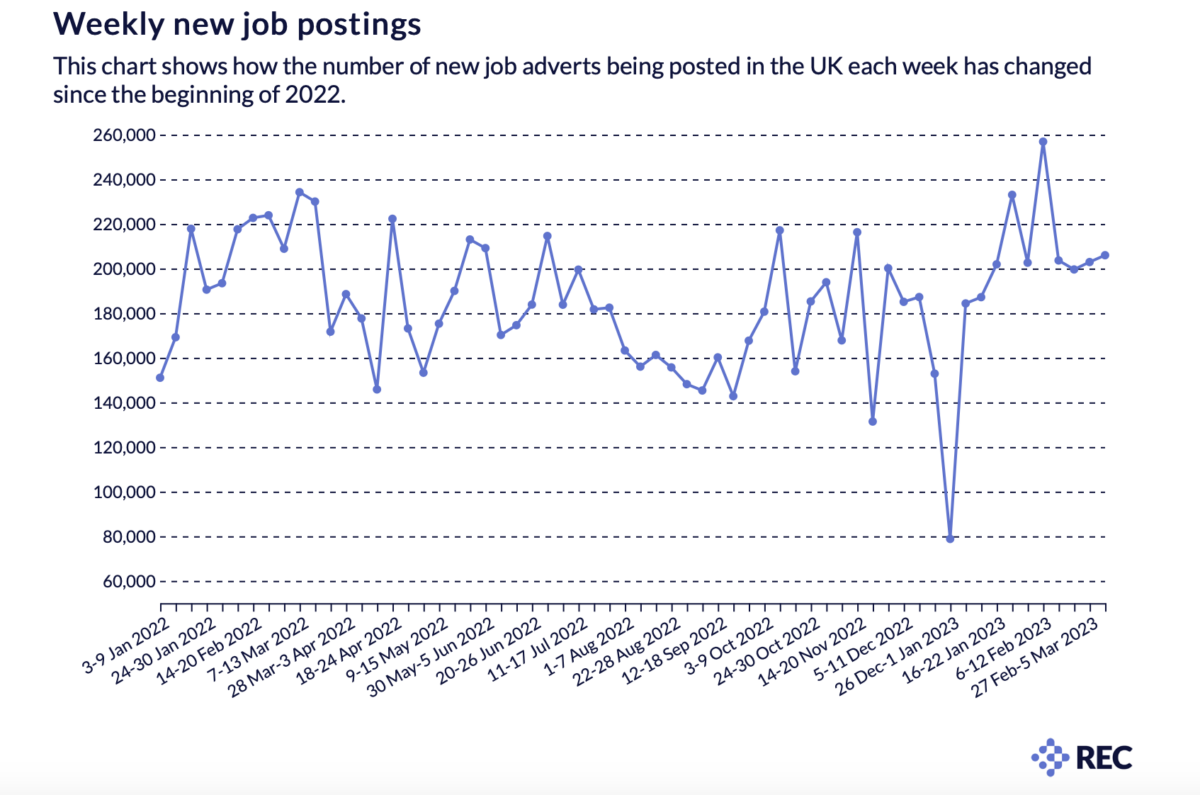 There were 205,947 new job postings in the week of 6-12 Mar 2023 – 1.5% higher compared to the week before (27 Feb-5 Mar)
The number of active postings in the week of 6-12 Mar is 1,447,095 – a 5% increase compared to the previous week (30 Jan-5 Feb). The figure has remained around or above 1.4 million since January 2022, indicating stability in the market
Notable increases in adverts for jobs in the education and construction sectors, including clergy (+17.6%), plasterers (+13.6%), secondary education teaching professionals (+12.6%), production managers and directors in construction (+11.7%), and scaffolders, stagers and riggers (+11.5%)
Three out of the UK's top ten hiring hotspots in the week of 6-12 Mar were in London: Lambeth (+12.8%), Redbridge and Waltham Forest (+9.9%), Lewisham and Southwark (+9.8%)
Three out of the UK's bottom ten hiring hotspots in the week of 6-12 Mar were in Wales: Bridgend and Neath Port Talbot (+0.5%), Monmouthshire and Newport (+0.3%), Powys (-0.3%) (REC)
The number of new online postings has stabilised in recent weeks. Compared to the fast growth seen in 2021 and the first half of 2022, the line is flattening. This shows that recruitment activity is no longer growing, which could be an early indication of the labour market cooling. However, the fact that the market is cooling and not declining in times of such uncertainty and high inflation suggests that the current economic outlook has not yet impacted negatively recruitment activity.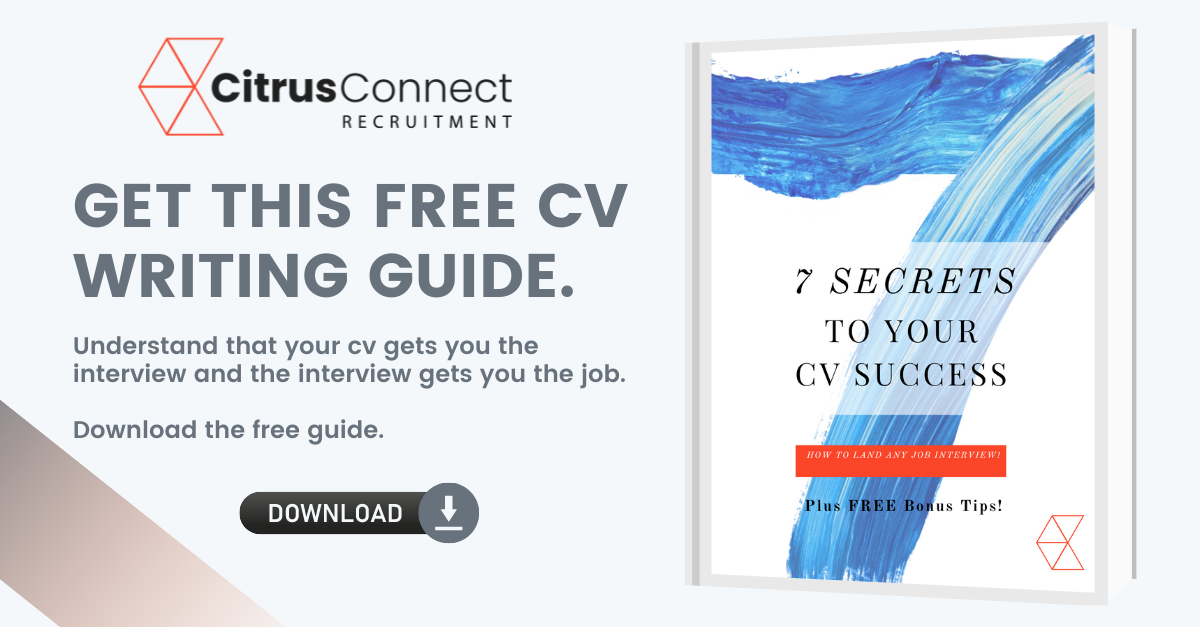 Unemployment remains low
The ONS has published its latest labour market update this month. Unemployment remains historically low, with vacancies well above pre-pandemic levels and economic inactivity still above the pre-covid rate.
How beneficial would the following possible government actions for the labour market be for your business in 2023? (Graph below)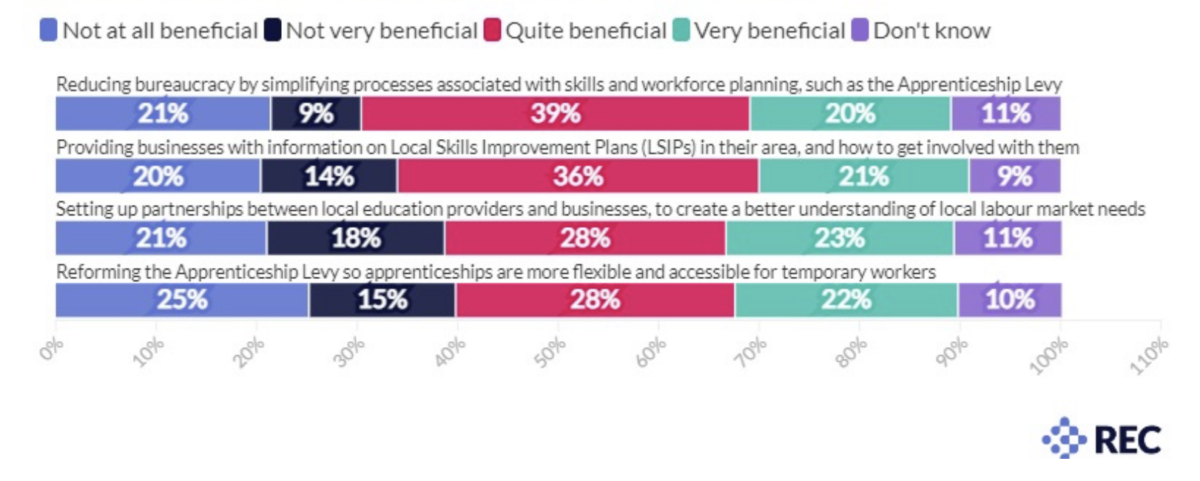 Government announces that young people will be able to use UCAS to search and apply for apprenticeships
Making it easier for young people to consider vocational training through UCAS is a positive move. But we need to broaden access to the money from the Apprenticeship Levy that businesses pay into. Employers need that to help them recruit in a time of huge labour and skills shortages.
We know the government is looking at how to tackle older worker inactivity in the labour market and thinking of how the apprenticeship levy can be used to help over 50s train or re-train makes a lot of sense.
A survey of employers shows strong support for reform of the Apprenticeship Levy, found by the Recruitment and Employment Confederation (REC).
The survey found half of the 200 employers interviewed would benefit from reform of the levy, so apprenticeships are more flexible and accessible for temporary workers. And near to 60 per cent would find any move to reduce bureaucracy by simplifying processes associated with skills and workforce planning, such as the levy, beneficial. However, although apprenticeships are excellent, they are not the right training for every job.
A Personal Note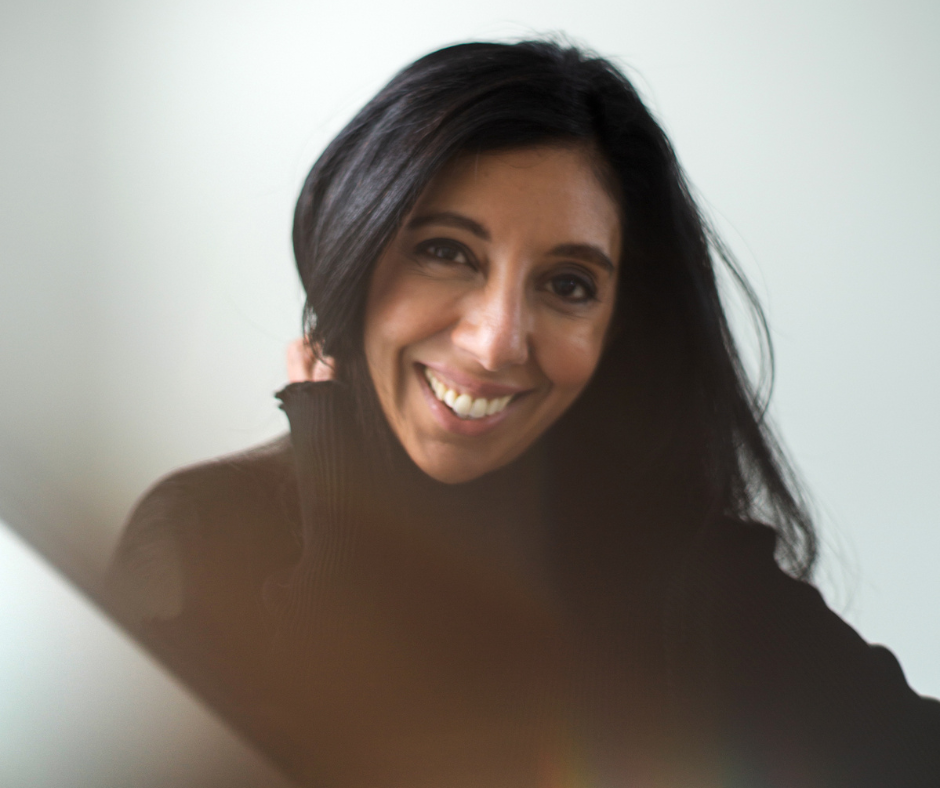 With the coming of spring, we are surrounded by birth, vibrance, life, and vitality, which should inspire us to start some new beginnings of our own. At this point in the year, it is a perfect time to take a step back and self-reflect on our growth and progression thus far, looking at what truly matters to us so we can achieve clarity and understanding.
Self-Reflect
When something goes wrong in a process, take a step back to see where it went wrong, and what you can do differently the next time around.
Declutter
Declutter your living space – as an advocate of simple living, this is one of my personal favourites. Doing a spring cleaning of your home to get rid of the dust that has accumulated in your home during the winter months not only helps to improve the air quality, but something about a clean home can improve your mental clarity.
Find Joy
This past year, I've started to document 'one good thing' every day. Each day, even the rough ones, I can always find something good.
Hopefully, the above will encourage you to find a Spring renewal that's meaningful and improves your daily life and mindset. As we head into a few days of rest, I wish you and your family a wonderful Easter break.
To your success,