Autumn Advances, Our Commitment Remains Steadfast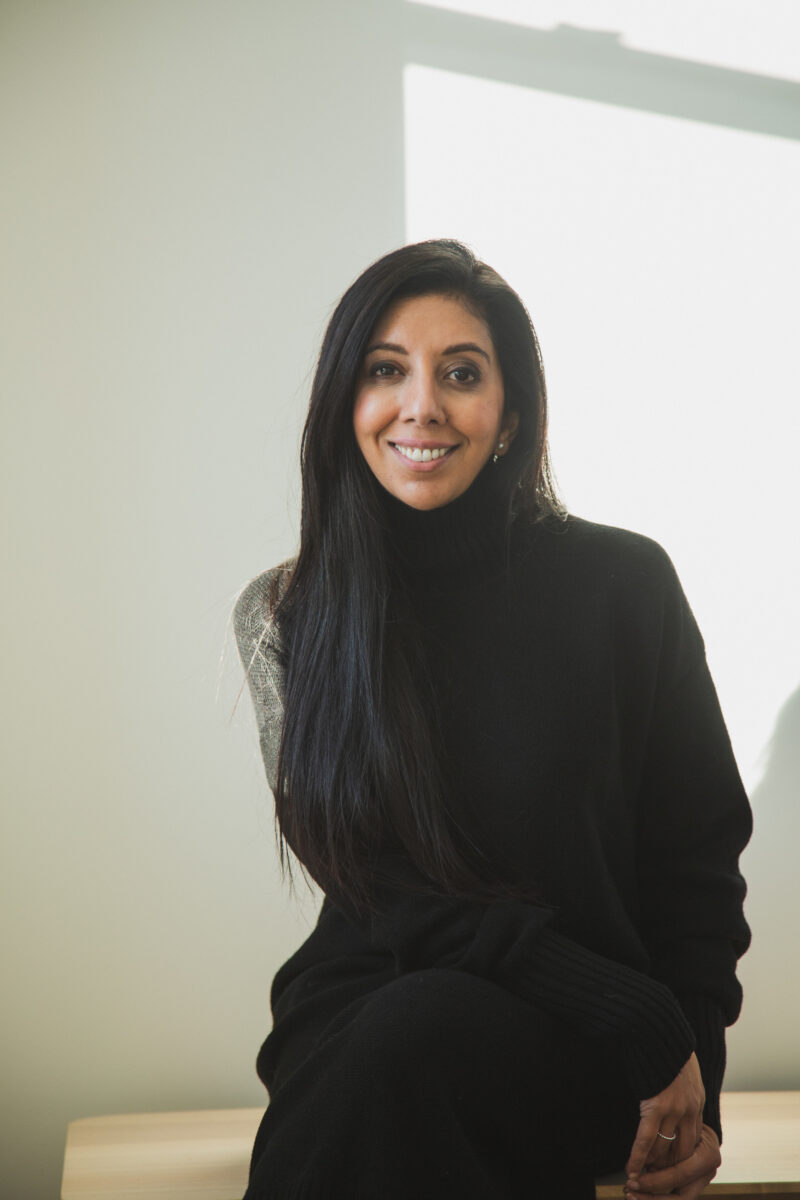 I trust this message finds you well as we delve into the golden hues of October. As the autumn leaves begin to fall, our commitment to excellence remains unyielding. This October, we're geared up to face every challenge with renewed vigour. As the Founder of Citrus Connect Recruitment, I am delighted to share with you this month's updates and insights.
As the year progresses, companies are increasingly optimistic about their own prospects. It's natural for businesses to feel more confident about matters closer to home. Larger companies, often the early adopters of emerging trends, are showing a positive stance towards hiring permanent staff. This could hint at smaller firms adopting a similar attitude soon. Throughout this year, many businesses have relied on temporary roles to weather economic challenges. I am keen to see if there's a shift back to permanent positions as the economy improves, and this survey indicates it might happen this autumn.
Employers' confidence has retained an upward trend despite a slow July, according to new Recruitment & Employment Confederation (REC) data.
The Office for National Statistics (ONS) reported recently that the UK economy shrank more than expected in July but REC's survey which covers June-August 2023 points to better underlying sentiment about the economy.
Firms continue to report improving confidence in making investment and hiring decisions for their own business. The rate of improvement dropped slightly by two points over the period June-August 2023 (to net: +5) – but remains on a positive path. In line with ONS data, July was the weakest month of the quarter (-5, compared to a positive trend in June and August).
Employers remain concerned about the wider economy, but concerns are not now growing as quickly as earlier in the year. In June-August 2023, business confidence in the UK economy improved by three points to net: -38, from net: -41 in April-June 2023. This suggests more positive expectations for the economy for the rest of 2023, despite high inflation and labour and skills shortages.
There was little sign of this lack of confidence in the wider economy affecting hiring plans. With shortages still prevalent in many parts of the economy, employers' forecast demand for permanent workers in the short term (next three months) and medium term (four to 12 months) remains.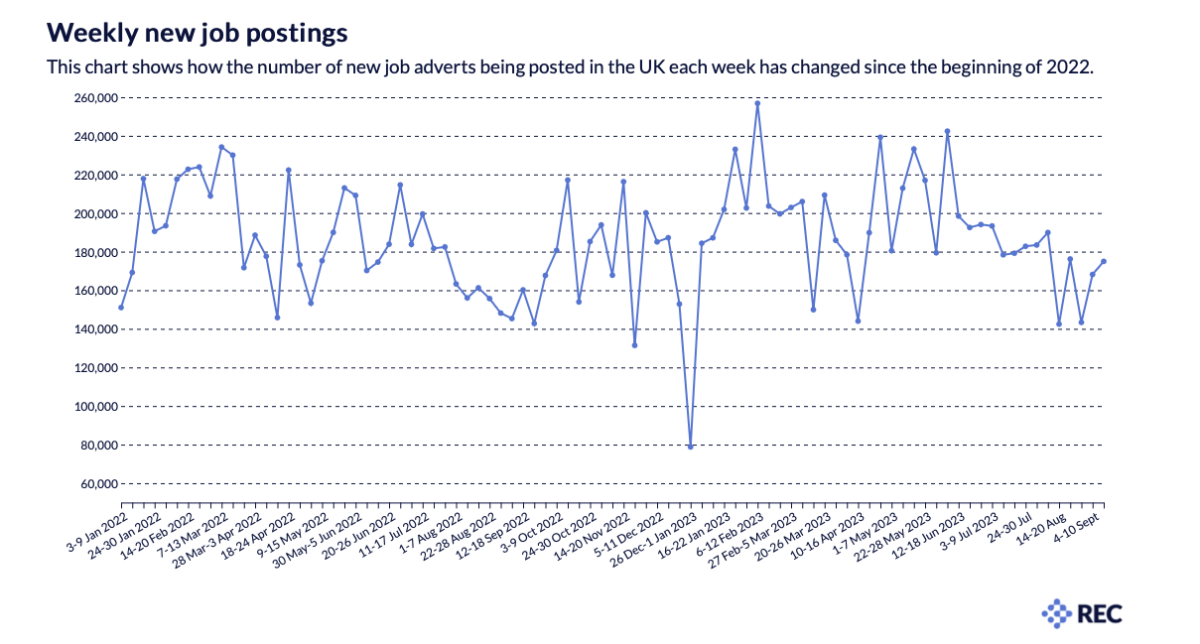 While concerns about the broader economy persist among employers, the recent decrease in inflation and halt in interest rate rises offer some relief. What's essential now is for politicians to champion growth. We need a comprehensive strategy focusing on infrastructure, skills, taxation, and mobility. Businesses have the potential to bolster Britain's economic future, but it's important for our leaders to prioritise the economy.
According to the latest Labour Market Tracker by the Recruitment & Employment Confederation (REC) and Lightcast, new job listings seem to be decelerating, as weekly postings no longer surpass the post-pandemic peaks of over 200,000. However, when compared to historical data, the current activity is still significant.
Currently, there's a noticeable variation in hiring patterns across sectors. For instance, sectors like hospitality continue to have high demand for staff, with growth in job listings driven by this demand. Similarly, with a combined 155,000 job adverts for teaching professionals and nurses, certain public sector areas reflect this trend. It's great to see forward-thinking clients adopting long-term hiring strategies and exploring innovative methods in partnership with their agencies — a strategy the NHS could benefit from adopting.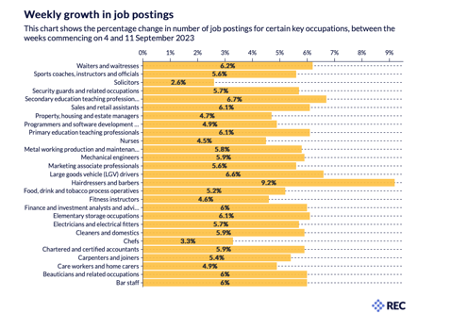 In some sectors where the market pace is slower, companies are taking their time to find the ideal candidate, leading to job adverts being live for extended periods. It's crucial for businesses to recognise that the job market is the most competitive it's been in decades. Extended hiring processes risk losing potential hires. Recruitment agencies are well-equipped to streamline these processes, ensuring quick matches with suitable candidates.
For sustained growth and consistent hiring levels in the future, what's needed is a robust industrial and business strategy. One that addresses challenges like the underperforming Apprenticeship Levy and visa system. We eagerly await a comprehensive plan, focusing on skills, employment initiatives, infrastructure, mobility, and taxation, that brings about marked improvements. All eyes are on the Chancellor, with high hopes for announcements in the Autumn Statement.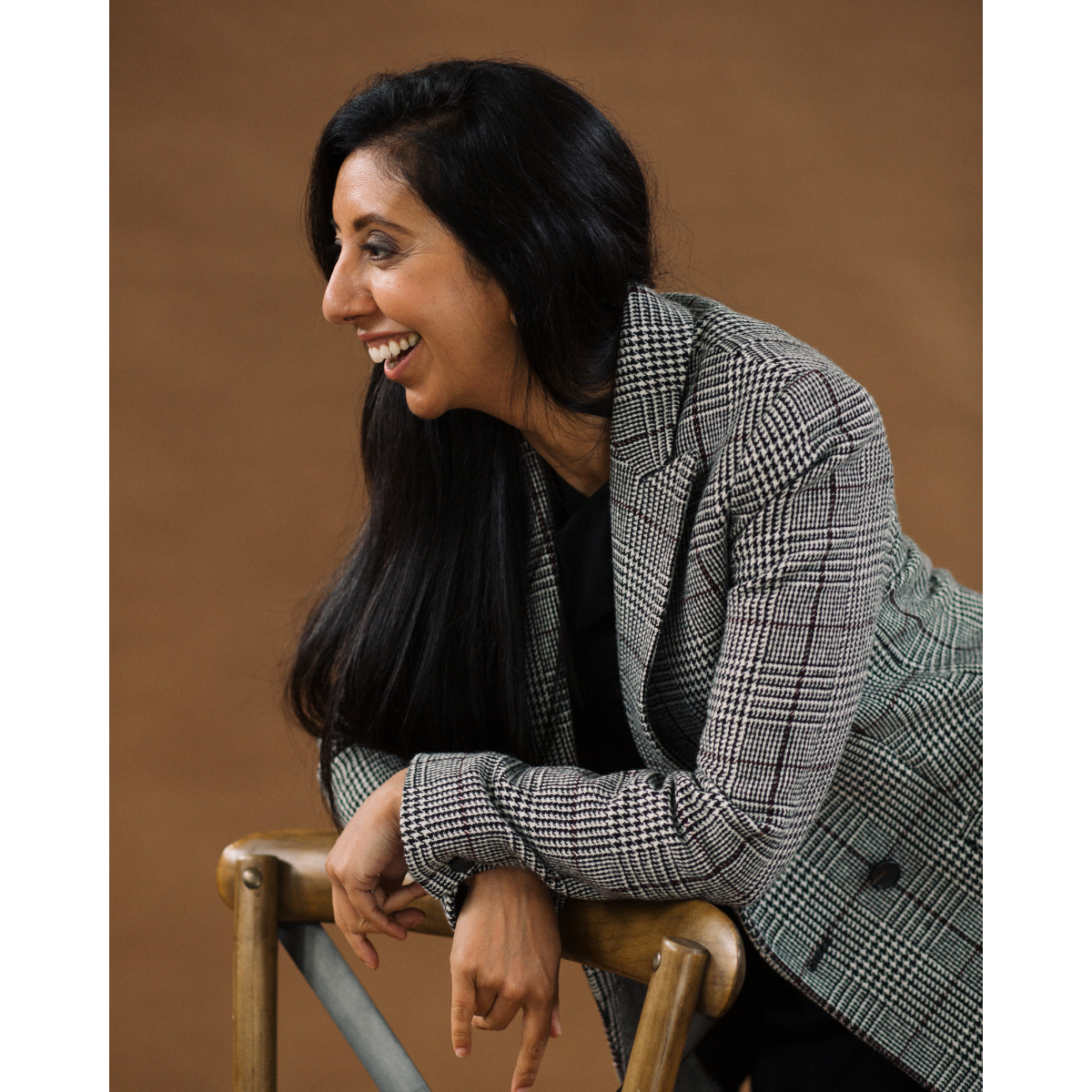 I recently ran a poll on Linkedin which revealed some great insights into the current recruitment landscape.
A great 53% identify that sourcing the right candidates is their predominant challenge, emphasising the pressing need for more targeted talent attraction strategies.
With 32% pointing towards retaining top talent, it underscores that recruitment doesn't end once a candidate is hired; fostering a positive work environment is paramount.
The 11% focus on reducing recruitment time and cost is a significant reminder that whilst quality is vital, efficiency cannot be overlooked. This poll truly highlights the multifaceted nature of hiring in today's market and the importance of a comprehensive approach to recruitment.
Let's talk about this more – do these statistics reflect the challenges you have been faced with?
In closing, let's embrace this transformative season, drawing inspiration from the ever-changing landscape of autumn. As the leaves transition, so too does our approach, always evolving and adapting. Thank you for your continued partnership and trust. Here's to a fruitful October and a promising end to the year. Stay connected, and see you in the next edition! Warm regards.
To your continued success,
Leena Parmar
Founder, Citrus Connect Recruitment