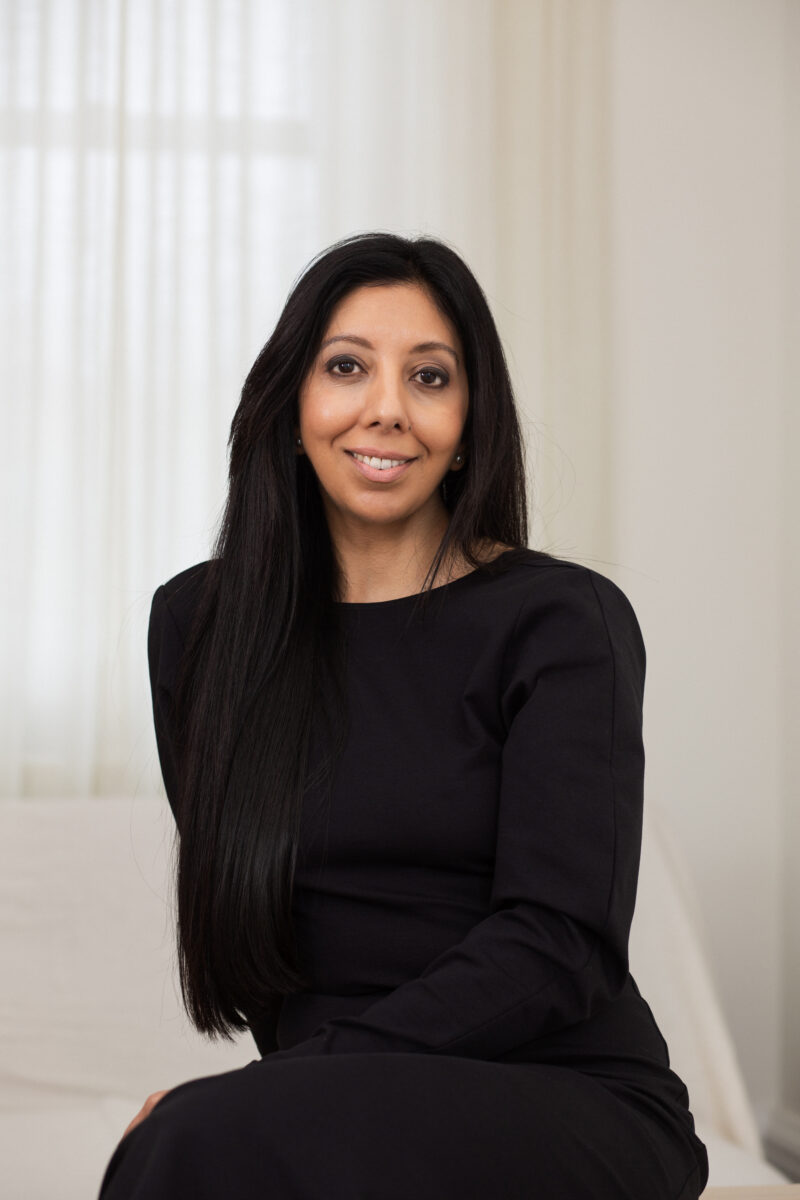 In Brief
With the uncertainty and contrasting viewpoints, it is more challenging to decipher what the recruitment landscape looks like. What we do know for certain, however, is that you cannot keep putting off the 'people strategy' part of your business any longer. It should be the only place you should be shining a bright light on, it is the 'crown jewel' of your operation that will ultimately guarantee your business success.
Let's get straight into it as it's been another long 10 weeks since our last update. Hiring activity across the UK remained light throughout April and May, for some due to the surplus of Bank Holidays but for others indicating caution around the outlook of the economy. Delayed decision-making led to a fall in permanent staff appointments.
Synonymously, vacancies increased at their slowest rate in 2023 to date, for sales recruitment an increase of only 5.6%. Growth of demand for staff slowed for the third straight month in May, with overall vacancies expanding at the slowest pace since last December (REC). The higher cost of living and shortages of skilled candidates has driven sustained increases in starting pay for both permanent and temporary staff.
(Data REC)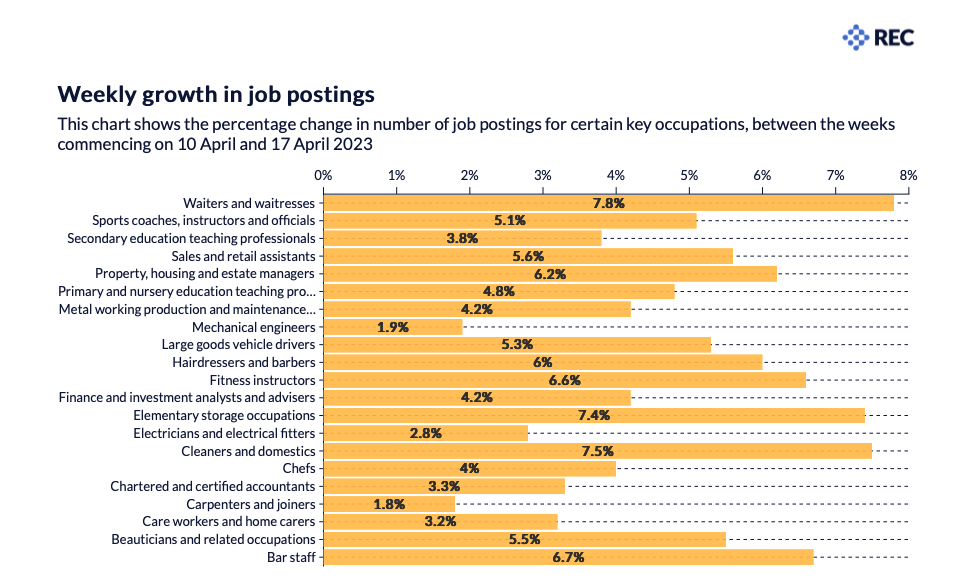 Total candidate supply expands at steepest pace since December 2020
The availability of labour improved for the third month running in May. Furthermore, the rate of expansion was the sharpest seen for nearly two-and-a-half years, with recruiters often linking the upturn to redundancies and a slowdown in hiring activity.
Confidence in the economy
The data below it shows the UK economy starting to feel confident again, and employer confidence in hiring returns to positive territory for the first time since the beginning of 2022, according to new Recruitment & Employment Confederation (REC) data.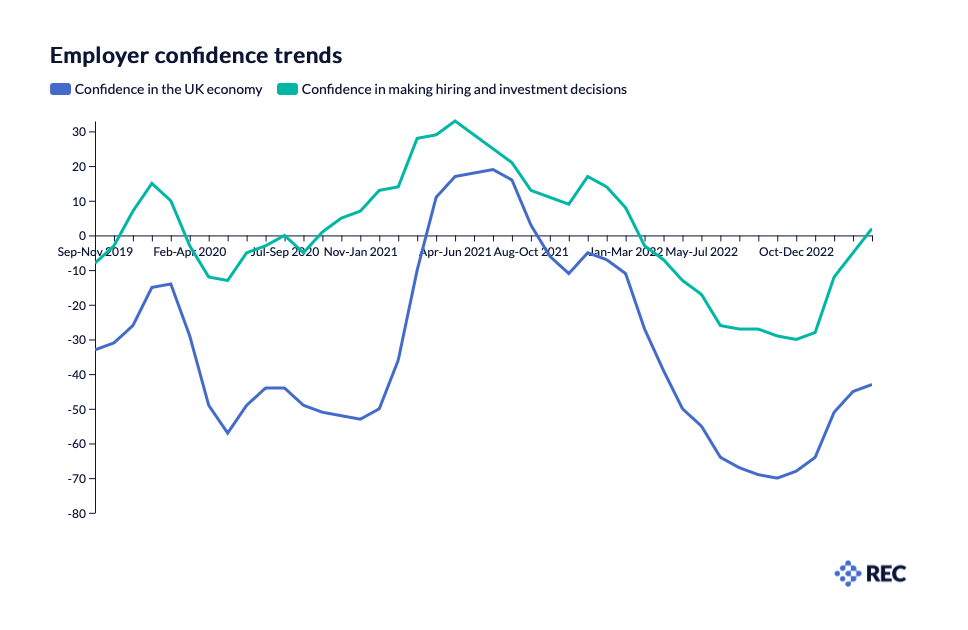 Although confidence in hiring is positive, in contrast, the IoD Directors' Economic Confidence Index, which measures business leader optimism for the UK economy, stabilised at -6 in May 2023, little changed from the previous month's value of -5 and ending a five-month climb from a low of -64 in November 2022. (IoD)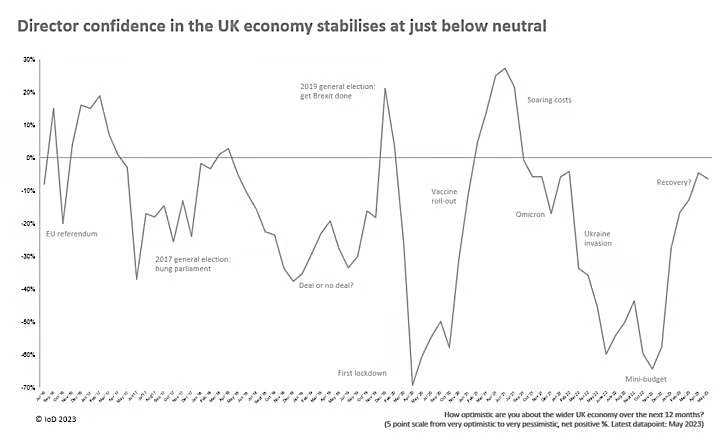 The current reading is a broadly neutral-to-negative stance, with 39% of IoD members feeling pessimistic about prospects for the UK economy in the year ahead compared to 33% feeling optimistic over the same time horizon.
When asked about current pain points for their organisation, the most common concerns were UK economic conditions (52%), skills shortages/employee skills gaps (46%) and the cost of energy (45%). These were the same top three concerns as the last time that question was asked in February 2023.
There was also a slight improvement in inflation expectations, with 33% stating they believed inflation had now peaked, up from 25% in April. However, given the annual CPI inflation peaked in October 2022, this result remains stubbornly low.
Kitty Ussher, Chief Economist at the Institute of Directors, said:
"Confidence improved in the first few months of the year as business leaders began to believe that the outlook for the UK economy, although difficult, was not as bad as they had previously been led to believe. Our confidence index is now stabilising at a just-below-neutral stance, similar to that recorded before the invasion of Ukraine. Although investment intentions are picking up and our members are broadly planning for growth it will take a greater sense that the worst is behind us before confidence really starts to lift."
Thirdly, the ONS published its latest labour market update this month, confirming that the jobs market remains resilient in the face of economic uncertainty and contrasting viewpoints.
But, whilst employers may feel uncertain about the future they still need to hire, in part because of ongoing labour shortages. These shortages are combined with high inflation and changes to the National Living Wage to drive very strong pay growth.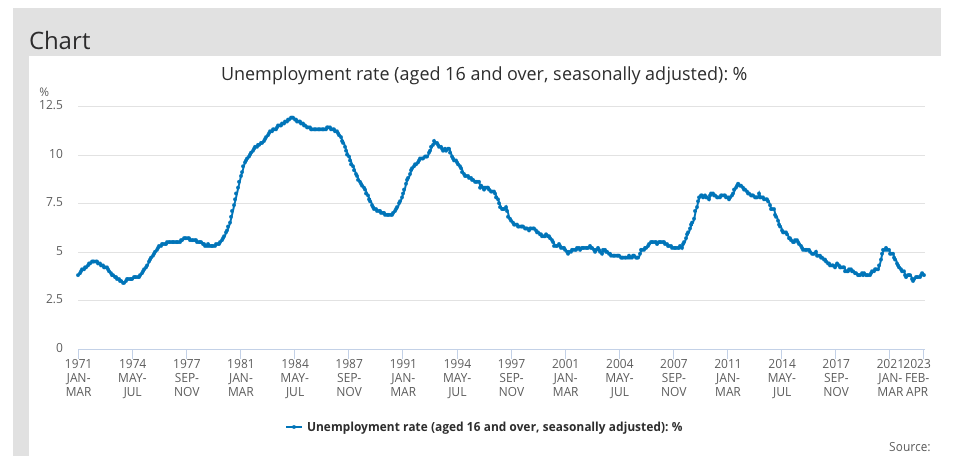 For jobseekers, this should be a welcome picture – there are opportunities out there to get into work or move to raise wages. For companies, I say this with love, you really need to focus on your talent strategy – recruiters are here to help with this, including changing the mix of skills as firms invest more in technology and innovation.
There is work for both businesses and governments to do to address this. Firms can help themselves by taking innovative approaches to how they hire. Greater candidate availability help resolves shortages, though inflation means wage growth remains high.
In addition, candidates may have to change sectors in their job search, so there is not an automatic increase in candidate supply for shortage roles. All of this puts a premium on getting our response right as businesses, forcing all businesses to look at skill development.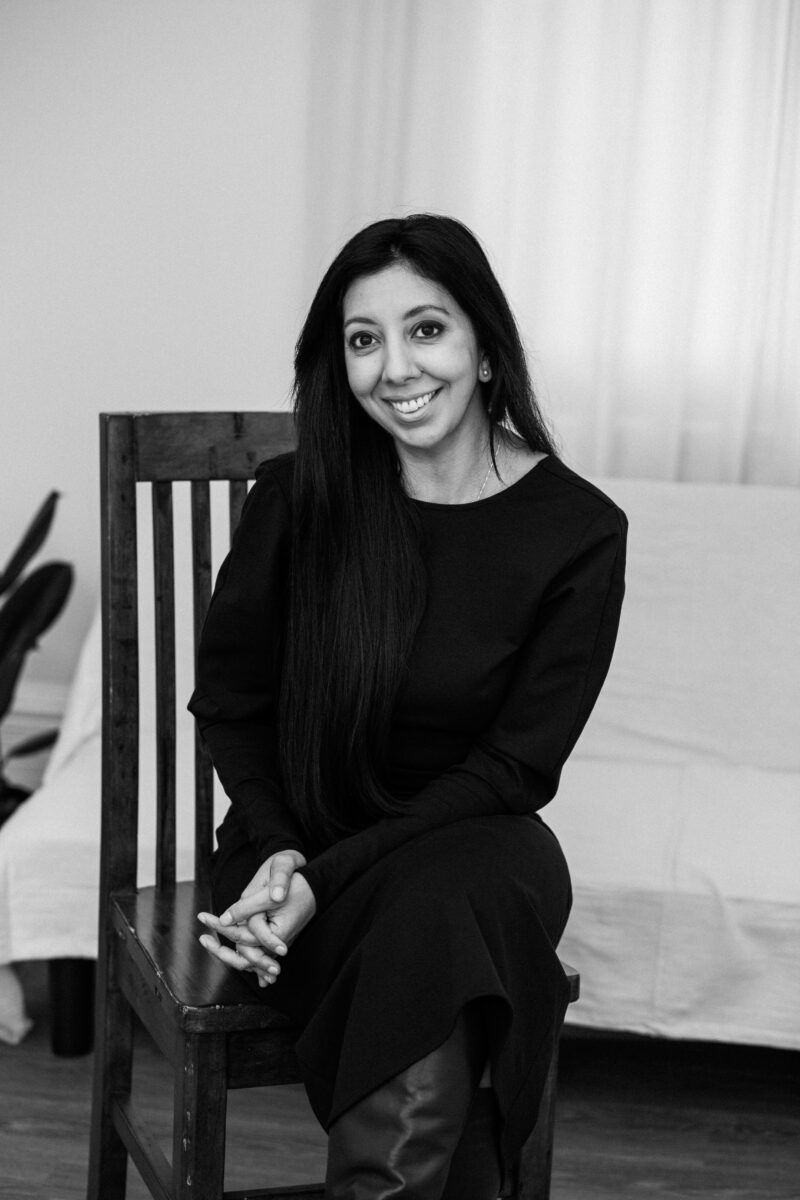 Focus on learning in the workplace
Keeping pace with the speed of skills transformation has long been a critical component of an organization's success, even before the pandemic's upheaval and accelerating digitisation.
Business leaders have an essential role to play in helping their employees build the skills they require. The effort is critical both to address to unique and complex challenges of today's world of work and to prepare for rapid future change.
Some changes are predictable, as in the need to keep up with accelerating technological innovation. Unprecedented change due to a global pandemic has heightened the existing complexities of the workplace and introduced new ones, particularly those arising from hybrid and remote models of work.
Employees continue to leave jobs or consider doing so in record numbers. According to PwC's Global Workforce Hopes and Fears Survey 2022, one in five workers is likely to switch employers within a year. This has resulted in a shrinking and sometimes ill-equipped talent pool.
Digging into personal skills to elevate work life
Throughout the pandemic, we've seen a growing overlap between personal and professional lives. While we call these personal skills, and they do matter for the personal lives of learners, most of these skills really position them for success in the workplace.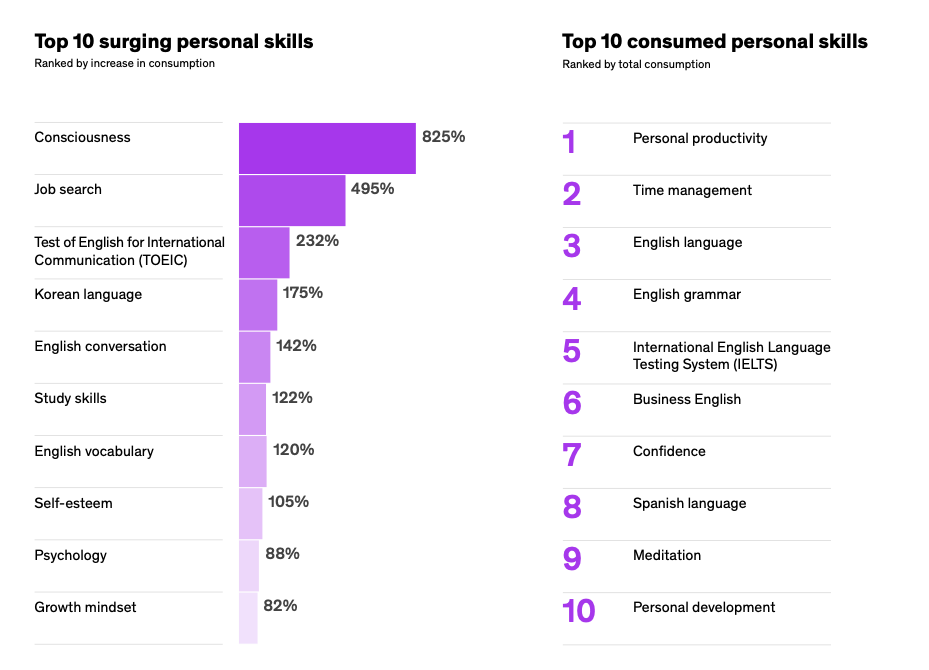 Leaders who focus on the state of learning in their organisations and develop a strategy that considers the said personal skills, give themselves a better opportunity to come out ahead.
Those who support learning essential skills as a foundational element of a stronger, more vibrant culture will see not only higher employee engagement but a better-prepared workforce. With a comprehensive, integrated approach to learning, organisations will be poised for future growth and well-equipped to handle disruptive change from any source.
To your continued success;